Most of the time I spend doing work for Sexy Networking is behind the scenes, helping clients with personal branding, SEO, social media management, or copywriting.
In my spare time I share news and tips on my Dirk Hooper Twitter or on Sexy Networking Twitter, and many other places.
Lately I've been getting into doing video content that lays out tips, strategy, mindset and more on everything from branding, to social media, to business goals, the state of the adult entertainment industry, and just about anything else I can think of to help.
The news, articles, and videos don't bring in any money at all. It's not easy to monetize that stuff (although if there's a sponsor out there, let's talk). Most platforms will not allow me to advertise adult products or porn sites, etc.
If you like what I'm doing, you want to support an independent creator, you want to help me build my network, get better equipment, help get me to some of these conventions or events so I can cover them for you, or you just like what I'm doing and want to help out, you can donate at my SubscribeStar account below.
Donate or Subscribe Through SubscribeStar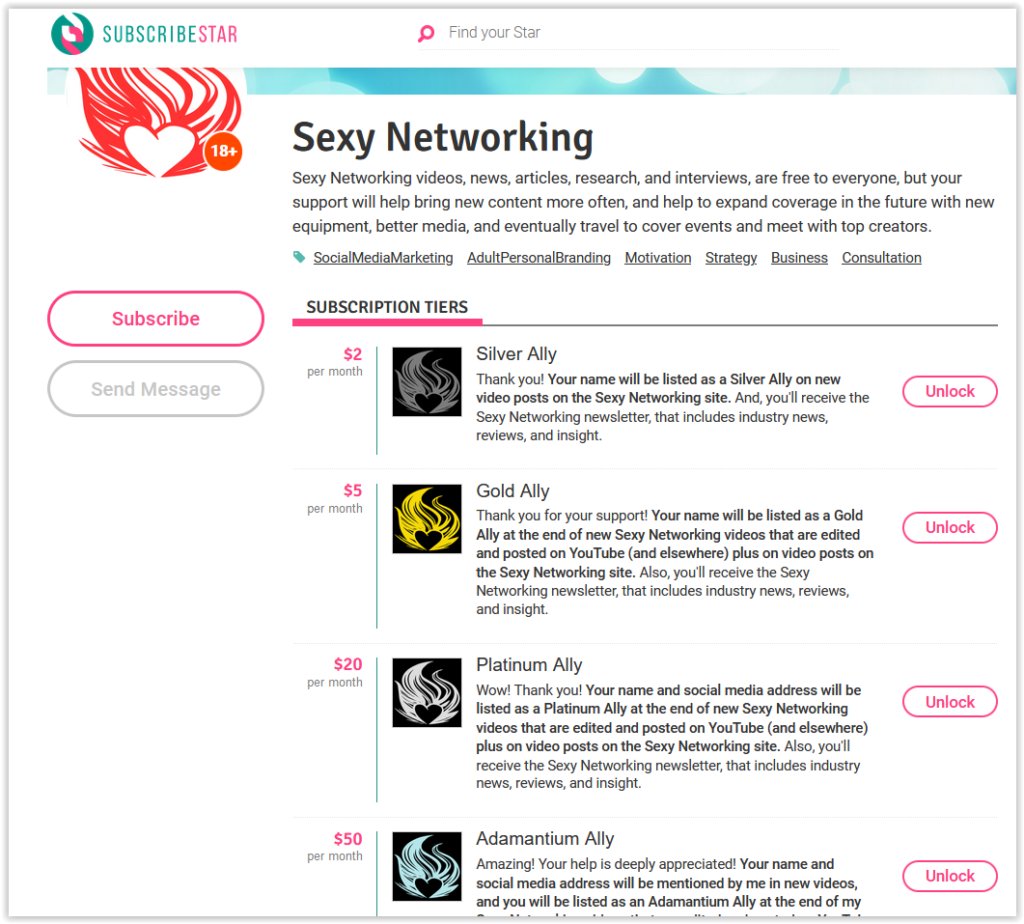 Click here to go to the SexyNetworking SubscribeStar Page.
Click Below to Donate Bitcoin or Other Crypto
I'm taking anonymous donations of several cryptocurrencies (like Bitcoin) below.
I also have other options available to take donations if you want to contact me directly, I just can't post them here. You can contact me directly at [email protected] if you want to try a different method.
And no amount is too small or unappreciated. Anything you send is deeply appreciated and will help bring more news, articles, videos, and more to you.
Anything you donate will go directly to buying new equipment, expanding what I'm doing, or helping with travel.
Why take cryptocurrencies? Simply because a lot of the stuff I do is adult in nature and standard payment processors are known to hassle those of us who do work of that kind. I'd put other processors up here if I trusted them, but I don't.
Finally, I don't ask for your name, because I know some people like to give anonymously. If you do donate something and want me to know who sent it, or why you sent it, please contact me at [email protected]. I'd love to thank you personally.
Send Me Something
If you want to send me something you want me to review on this site or elsewhere, or you just have something you want me to see or have, then you can send it to me at the address below.
I can't make any promises until this happens, but if I start getting stuff regularly then I'll definitely do videos on them and share them with the world.
Dirk Hooper
133 24th Ave NW Suite 345
Norman, OK 73069-6320
Latest posts by Dirk Hooper
(see all)