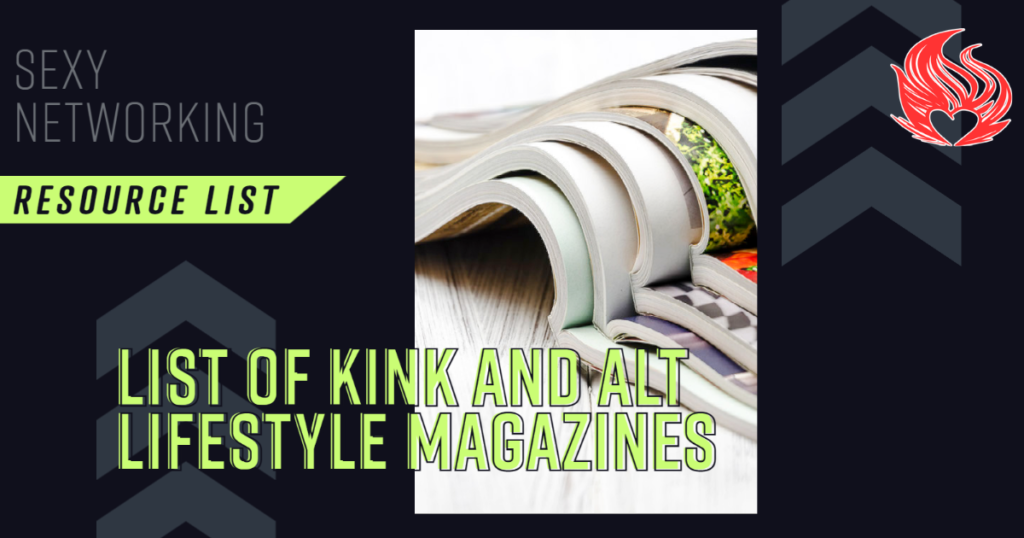 I get a lot of requests from clients to help them find magazines that are friendly to kink, lifestyle, the BDSM community, and sex workers. Some may be looking for a place to advertise, some might be looking for opportunities to get the word out about an important event, or product, or project. Others might be trying to find a place to score an interview.
If you're an adult content creator, or a professional dominatrix, or an erotic writer, for example, it's not always easy to find a place that welcomes what you do and wants to talk about it.
The publications below, digital, analog, and otherwise, are currently publishing, and I've worked to give you some information on how to find out more about them, but I would highly suggest visiting their websites to get the most up-to-date information.
Some of these publications will be looking for advertisers, others might be looking for people to interview, or guest articles, but each one will be different, and again, I highly advise you contact them (or buy an issue to get a good idea of what they are doing).
I tried to find summary information, contact info, and social media for each post, but that information is easier with some magazines than others. Also, I leaned heavily toward posting smaller or independent publications where you'll actually have a shot at getting an interview or be able to afford to advertise.
I've been on the production end of things long enough to know that most magazines are looking for great article ideas. If they are accepting advertisers, they are going to be excited to talk to you about that. But this is just a starting point. Do your homework.
This list is NOT EXHAUSTIVE! It's just what I discovered with research and asking the community for their input. I'm hoping to expand this list over time. Don't get upset if you're not on the list. Just contact me.
If you're running a magazine that's not on this list, or I have a dead publication listed, or you want to add more information to your listing, please contact me at [email protected] and I'll happily make edits.
List of Magazines, Publications, and Periodicals
Altar Mag
---
Alternative Revolution Magazine
Alternative Revolution Magazine
This magazine has no internet presence that I can find. If you have an actual copy of the magazine you have a better chance of finding contact information.
---
ASN Lifestyle Magazine
https://www.asnlifestylemagazine.com/
https://www.asnlifestylemagazine.com/contact-us
ASN Lifestyle Magazine is a monthly online magazine focusing on sex and kink lifestyles. They are actively looking for advertisers. Dirk Hooper is a regular contributor to this publication.
---
Bedeseme
Published bi-monthly, a full magazine dedicated to the latest in the industry and the fetish scene.
---
Darkside Magazine
https://www.darksidemagazine.com/
https://www.darksidemagazine.com/contact
Darkside Magazine is the sexy digital magazine aimed at the BDSM community the world over. Now published monthly, each issue is rammed with hot photos, sexy stories, lifestyle advice and so much more.
---
Demasque
https://www.demasquemagazine.com/about
https://www.demasquemagazine.com/contact
Demasque is an independent magazine designed for and dedicated to the BDSM, fetish, kink, alternative lifestyle and sexuality communities. Founded in 2018 and based in Melbourne, Australia, Demasque is created by lifestyle kinksters who want to show off their local scene as well as feature exciting pieces from around the globe.
---
Devolution
Quarterly
The UK's only truly independent Alternative music and lifestyle magazine, made by people with passion for people with passion.
---
Fetish Magazine
https://www.fetish.com/magazine/
For some, fetish and kink can be a dark world of mysterious dungeons filled with latex covered dominatrixes, unidentified objects going into places you never thought possible, and people lining up to get trampled on. We could go on, but you should have a look around for yourself. While all this is part of the fun, there's more to it than all that — a lot more.
---
Habit Magazine
https://habitmagazine.com/my-account/
---
KFS Magazine
https://kfsmagazine.com/contact-us/
KFS was started by Tim Woodward, head of the famous fetish organisation, Skin Two.
Tim founded Skin Two Magazine, the high quality, stylish fetish fashion news and nightlife glossy magazine, in 1984. He went on to set up Skin Two Clothing, publish several books, make a film (London Fetish Girls) and oversee Skin Two events in England, Australia and the USA.
---
Kink~E Magazine
We feature articles interviews everything #adultonly ? GET INTERVIEWED ?? http://anchor.fm/kemtoptalk FF and shop @servboxx https://linktr.ee/kemagazine
---
Kink'd Mag
https://www.magcloud.com/user/joro7
EDGY | ALTERNATIVE | ARTISTIC | FETISH Home of all things creative.
---
Kink Lovers Magazine
https://kinklovers.com/contact-kink-lovers/
Kink Lovers is the online magazine for kinky people into BDSM, fetish, and kink. If you want to explore your kinky side, spice up your love life, or meet new kinky partners – enter the world of Kink Lovers.
---
Kinkly
https://www.kinkly.com/about/contact
Sexuality is a normal, healthy part of being human, and talking about sex is how we learn about it, about ourselves and about our partners. Here at Kinkly, we think that conversation is a path toward sex that's safer, more respectful and, as a result, more pleasurable for everyone involved.
---
Kink Queens Magazine
https://www.instagram.com/kinkqueensmagazine/?hl=en
Email: [email protected]
Kink Queens Magazine is a celebration of Female Supremacy and Dominant women, promoting sex positive lifestyles, industry professionals, kink & fetish models, sexy destinations, fashion, events, entrepreneurs, art, relationships and more!
---
Kink Weekly
Kink Weekly is an online magazine for those interested in BDSM, no matter your orientation, role, or identity. It is updated each week with articles, photography, erotic writing, and reviews about all things kinky.
---
KNKPWR
Art as porn, porn as art. From bdsm and pornography to music and photography, we created this site to promote culture we love.
---
Marquis Magazine
https://shop.marquis-magazine.com/
https://shop.marquis-magazine.com/Kontakt
https://twitter.com/magazinemarquis
The Marquis Magazine was founded in 1994 by Peter W. Czernich and was also very successful internationally until 2015. After that, it became quiet about the fetish magazine with the highest circulation worldwide…
---
Massad
https://www.massad.com/en/contact-massad.html
Welcome to the website of the oldest Dutch BDSM magazine with a complete new design. You will find party information here, link to many mistresses, shops and other activities and our own webshop.
---
Sinical Magazine
https://sinicalmagazine.com/contact/
Sinical Magazine was established in 2010, and is a fetish photography magazine that has featured models and photographers, such as Dita Von Teese, Masuimi Max, RubberDoll, Steve Diet Goedde, Chas Ray Krider, among many others.
---
Subspace Magazine
https://subspacemag.com/index.php/contact/
subspace is an altered psychological state that can be achieved in a BDSM scene.
---
Taboo
https://www.hustlerstaboo.com/
https://www.magazinecafestore.com/products/hustlers-taboo
https://hustlermagazine.com/contact-support/
---
Xtra Magazine
https://xtramagazine.com/topic/fetish-kink
https://xtramagazine.com/contribute
Xtra is an award-winning digital magazine and community platform covering LGBTQ2S+ politics, culture, sex, relationships and health. We tell stories in multiple ways: Short and long features, profiles, Q&As, essays, opinion pieces, explainers, video documentaries and podcasts.
---
Zipper
The world would be a better place if it allowed us to experience pleasure without shame and explore kink without judgement. Award-winning Certified Sex & BDSM Educator, Sunny Megatron, and #1 site for KINK, Clips4Sale joined forces to make that a reality with Zipper Magazine.
Latest posts by Dirk Hooper
(see all)