January 8, 2015

Dirk Hooper

2
News Release
Sexy Networking
PO Box 6027
Moore, OK 73153
SexyNetworking.com
Media Contact
Katie Kruz
[email protected]
NEW ORLEANS, LOUISIANA, January 7, 2015 – Mistress Olivia Vexx recently hired dominatrix photographer Dirk Hooper for a full-day on-location shoot in New Orleans. Their work yielded five substantial sets and Mistress Olivia Vexx has fully updated her business website with the new photos.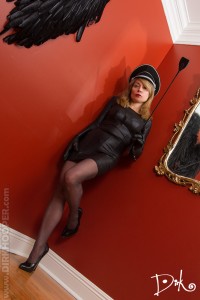 Mistress Olivia Vexx was very generous in offering a testimonial based on her experience working with Dirk Hooper. She said, "Dirk Hooper is not just an experienced photographer with state of the art equipment. He is an artist with a strong creative aesthetic who uses the equipment to achieve the client's goals. He takes what he has to work with and through his lens sees what it can become. A basic look or idea gains mood and definition; as with any good artist his improvisational skill adds depth."
She added, "I have never been so at ease in front of the camera; his patience and personality truly helped me relax. I look forward to future shoots with Dirk at the helm."
Hooper said, "It was such a pleasure to work with Mistress Olivia Vexx. I had just as much fun getting to know her as I did shooting with her. It's an honor to hear such kind words from a respected and experienced member of the fetish community. Obviously, she's a beautiful and talented dominatrix, but she's also a complex and giving person."
Mistress Olivia Vexx is an experienced professional dominatrix and disciplinarian based in New Orleans. She is an expert in discipline and offers a unique experience in a safe setting for novices and experienced players alike. Many of the photos from the recent shoot are available right now on http://www.mistressoliviavexx.com. Mistress Olivia Vexx can be contacted directly from her website.
If you are interested in more information about Dirk Hooper Photography or want to hire Dirk Hooper, you can visit his Professional Photography page at
http://www.dirkhooper.com/professional-photography. You can also contact Dirk Hooper at [email protected].
Dirk Hooper is an international fantasy and fetish photographer, fine artist, and writer whose work has been described as "forbidden tales to rival the likes of H.P. Lovecraft and the Marquis de Sade."  Dirk's publishing credits include such diverse media as comic books, music projects, art books like "Fetish Fantasies: The Best of International Fetish Photography" and slick fetish magazines like "Skin Two Magazine."
Hooper has cultivated a reputation as a fine-artist in established venues including the prestigious Fred Jones Jr. Art Museum and the Orange County Center for Contemporary Arts. As a fetish photographer, his work has been shown in exhibitions like "the Dirty Show" in Detroit and around the world in Brussels, Belgium, Utrecht, the Netherlands, Hong Kong, China and Bournemouth, England.  Hooper has work in the permanent collection of The Kinsey Institute based at Indiana University and has participated in three shows curated by the Kinsey Institute.  His work is also in the permanent collection of the Leather Archives and Museum in Chicago, Illinois.
Dirk Hooper is a host and Executive Producer of "The Fetish Show" radio program, co-founder of alternative modeling site Toxic Goddess, and actively helps adult performers, dominatrix, artists and writers with personal branding through his Sexy Networking consultation business.
###